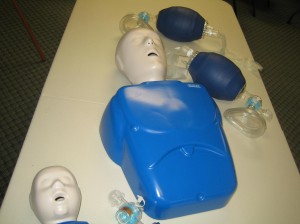 The leading supplier of workplace-approved emergency first aid classes in Winnipeg is Winnipeg First Aid (click here to view the website). Students will be taught the latest first aid and CPR techniques as provided by trained, experienced, and knowledgeable instructors. Register for any class online, by e-mail, or by phone. Participants that need to renew expiring awards may be able to register for a re-certification course. Companies and businesses looking for workplace-approved training for their employees can book private courses in which the instructor can come to your training facility or a private course can be offered at the Winnipeg First Aid training center. Participants that enroll for emergency first aid with this St Mark James training provider will pay the lowest prices (73.99) and receive the highest quality training. Participants will learn lifesaving skills with hands-on training using the latest equipment. A friendly, experienced, knowledgeable, and professional instructor will make the course an enjoyable learning experience. Instructors will cater to a variety of learning styles and will focus on making the course as interactive and enjoyable as possible. This training provider is located just south of downtown Winnipeg in the Osborne area. Plenty of parking is available at this conveniently located training center. To register for an emergency first aid course in Winnipeg use the contact details provided below or complete the online registration form.
Emergency First Aid Course Dates and Times in Winnipeg
Winnipeg First Aid offers instructional classes at least twice per week with popular classes (emergency first aid) offered five times per week. Personal courses can be arranged either at the training center or at a  place suitable for the student.
For more information about this training location check out the map posted below:

Workplace Certification
Students that properly complete an emergency first-aid and or cardiopulmonary resuscitation (CPR) training through Winnipeg First Aid will get a workplace-approved certificate.  All certificates are valid for three years and a re-certification course is required prior to the certificate expiration. Only certain courses are available for re-certification in the province of Manitoba. Only standard first aid, CPR level "C" and CPR level "HCP" are available for re-certification. Participants looking to renew emergency first aid certification must retake the 8-hour course.
CPR and First Aid Courses
Winnipeg First Aid delivers all levels of cardiopulmonary resuscitation (CPR) classes which include CPR "A", "C" and "B" and CPR level "C" for health care providers (also known as CPR "HCP") These CPR / AED programs may be available as CPR only classes. All students are required to take CPR training as part of the emergency first aid course. First aid courses include emergency, standard, and childcare first aid.
Emergency First Aid Program Rates
Winnipeg First Aid offers the most competitive price ranges in workplace-approved first aid and CPR lessons. They additionally provide the best prices for re-certification classes, food safety classes, and private courses for individuals or businesses. Below are the prices for emergency first aid programs in Winnipeg:
Emergency first aid, CPR, and AED – 78.99
Emergency first aid, CPR, and AED Re-certification – 58.99
Registration
To register for any first aid and CPR course through Winnipeg First Aid visit the website at www.firstaidwinnipeg.ca Register for emergency first aid in Winnipeg today and learn the best techniques to save a life and acquire the most up-to-date workplace-approved first aid and CPR / AED accreditation.
Did You Know?
Bronchial asthma is often caused by a certain common trigger such as having a cold or flu. Other common asthma triggers include pet hair, insect bites, stings, pollen, paint, smoke, and certain foods. People with asthma take precautions to avoid these triggers, however, it is important that you should know of asthma triggers your friends, co-workers or loved ones have. Asthma attacks range from mild to severe ones which can be fatal. Talk to the people you know that have asthma and help prevent an attack by learning their triggers.
Using an AED
Check out the video below to watch the latest CPR techniques provided by a workplace-approved trained emergency, first aid instructor.
How to Apply an Automated External Defibrillator (AED)
The video posted above shows a workplace-approved instructor trainer providing a demonstration on how to effectively place an AED on a victim. Here are some basic tips on using an AED.
When the AED arrives simply turn it on and listen to the instructions. While the instructions are being provided, and you are able to do so, continue to provide CPR for the victim.
Ensure that you place the AED pads on the victim's bare chest. Do not place the pads on clothes. The pads are for one-time use only.
Ensure that moving around the victim is limited when the AED is analyzing the victim. A motion-detected prompt may occur if too much movement is occurring around the victim.
Stay clear when the victim is being "shocked". You may be at risk of being shocked if you are in contact with the victim when using an AED.
To learn more about how and when to use an AED register for emergency first aid in Winnipeg.