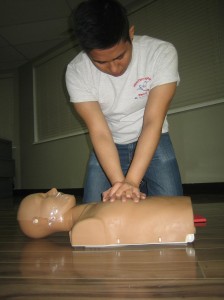 Learn to recognize, manage and help during major first aid emergencies by taking first aid, CPR, and AED course with Vancouver First Aid Ltd. (VFA) in Coquitlam, B.C. A brand new training center is located in the heart of Coquitlam with free parking and easy access to public transit. This provider offers a higher number of courses at lower prices than all of the major competitors including Valley First Aid, Safe and Sound, and any other provider in Coquitlam. This emergency first aid and CPR provider in Coquitlam also offers standard and childcare first aid courses as well as stand-alone CPR courses and re-certification. Scroll through this page to find out why VFA is the top provider in Coquitlam and find out the many courses available with them.
How to Contact them and Register for Courses?
Use the following information to contact VFA in Coquitlam:
Location Information
Nestled next to the trans-Canada highway, Lougheed highway and next to the Skytrain station, this training centre is a perfect location to get to by bike, care, bus or skytrain. Lots of free parking is also available. Plenty of nearby options are available to eat at during lunch break including sushi and bars (maybe avoid the drinks!). This location proudly offers courses to Maillardvill, Brunette Creek, Fraser Mills, Austin Heights, Sulliven Heights, Burquitlam, Port Coquitlam and the many students and staff at nearby Simon Fraser University in Burnaby. For more information about this training provider check out the map below.

Why is VFA better than the Other Providers in Coquitlam?
When comparing VFA to other providers in the Coquitlam area it is obvious to see why they are the leaders. Prices are as low as 45 dollars for CPR courses, 79.99 for emergency first aid courses, and 134.99 for standard first aid courses. These prices, which include all taxes, are significantly cheaper than the major competitors including Valley First Aid and Safe and Sound. Courses are also offered more frequently which provides customers with more options. Also, registration is available online, via chat, email, and by telephone 12 hours a day and 7 days a week. No provider offers that many options for registration.
What Will I Learn in an Emergency First Aid Course?
Participants registered in this 8-hour course will learn about the following:
CPR for adults (CPR level "C" participants will learn techniques for victims of all ages)
Recognition and management of respiratory and cardiovascular emergencies.
HAINES recovery position
5 Rights to medication
When / How to contact EMS
Choking (partial vs full)
Bleeding emergencies
Participants will learn to recognize and manage these emergencies with hands-on training using life-like mannequins.
What Else is Offered at the Coquitlam Training Centre?
Participants can register for more than just emergency first aid in Coquitlam. You can also register for:
Respiratory Mask Fit Testing
Online Food Safe Training
Standard first aid
Babysitting first aid
Re-certifications
CPR for health care providers
Basic Life Support (BLS) via the Heart and Stroke Foundation
Layperson CPR only (CPR level "C")
Oxygen administration
Fall Protection
Confined Space Entry
Basic First Aid
Advanced First Aid
Some of these courses are also available in an on-line format as well as blended training. Many courses also meet WorkSafeBC requirements.
For more information about available courses with VFA in Coquitlam use the links posted above to visit the website.