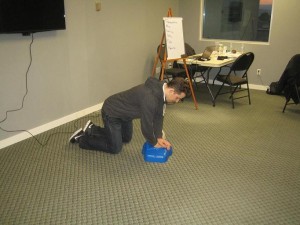 The leading provider of  first aid training in Regina is Regina First Aid (click here to view this website) . Participants will learn first aid and CPR techniques as provided by this workplace approved provider that meets American Heart Association and International Liaison Committee on Resuscitation (ILCOR) requirements. With knowledgeable, experienced and friendly instructors alongside the latest training equipment participants will get the best training available.  Registration may be done on-line, by e-mail or phone. The only basic first aid course in Saskatchewan that meets workplace requirements is standard first aid. This comprehensive two day course covers a variety of first aid, CPR and AED topics and provides successful participants with an award that is valid for 3 year upon completion. Participants will learn to manage and recognize victims of choking, burns, seizures, heart attacks, angina, anaphylaxis and many more sudden medical emergencies. Re-certification courses are available for participants that meet the prerequisites to renew expiring standard first aid awards. Courses are available at various times during the week and taught by certified, trained, experienced and knowledgeable instructors that make the course a enjoyable experience. To register for first aid training in Regina, Saskatchewan use the contact form posted below.
Register for a Course On-Line Here
[EVENT_CUSTOM_VIEW template_name="recurring-dropdown" event_category_id="Regina"]
How Else Can I Register for a Course?
Use the following contact details to register for a course:
On-line registration is available 24 hours a day. Telephone registration is available during regular business hours (7am to 6pm)
Emergency First Aid Lesson Times
Regina First Aid provides emergency and standard first aid courses through out the week. Private courses may be booked at a training facility or at a specific location of your own choosing. Special discounted rates are available for large groups and companies. Use the contact information available above to register for a course today.
Certifications Via the St Mark James
Students that finish an emergency or standard first aid or CPR class through Regina First Aid will get a certificate that is valid for three years. A  standard first aid and CPR re-certification course must be taken prior to the certificates expiration date.
Different Kinds of First Aid and CPR Courses
Regina First Aid has all varieties of cardiopulmonary resuscitation training most notably CPR "A", "B", "C" and health care provider CPR level "C" (also known as CPR HCP). All of these CPR programs can be offered as stand-alone courses, however all emergency first-aid lessons must include a standard level of CPR training. Available first aid courses include standard, childcare and emergency first aid.
Program Costs and Fees
Regina First Aid works to offer the least expensive prices in workplace approved first aid or CPR courses. Furthermore they provide the best prices for re-certification training courses and food safe training courses.
Registration for Emergency First Aid in Regina
To register for an emergency first aid or CPR training course with Regina First Aid visit their website at www.Reginafirstaid.ca. Register for an emergency first aid course  and learn valuable skills to save a life.
Get a Head Start – First Aid and CPR Training Video
Individuals that enroll with Regina First Aid can be confident knowing that they will receive the highest level of emergency first aid and CPR training. The video posted below shows the latest obstructed airway first aid and CPR techniques.

Here are some basic tips and facts on how to manage a victim with an obstructed airway.
The procedure for unconscious and obstructed airway victim is similar to that of regular CPR. Provide 30 chest compression for every two ventilations, however, after the 30 compression's check the victims mouth for an obstruction using a technique known as "hook and look".
If you retrieve the object that was causing the obstruction continue with 30 compression's for every 2 ventilation's until help arrives, the AED becomes available

Checking the victim for signs of life

or the victim responds.

Do not place the AED onto the victim if the airway is obstructed. The airway must be clear prior to using an AED.
Learn more about how to manage obstructed airway unconscious victims by taking emergency first aid training in Regina.