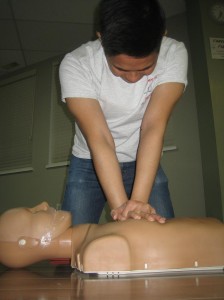 Individuals that need workplace-approved certificates in first aid, CPR, and AED training should register with Saskatoon First Aid (click here to register with this provider).  Students will become familiar with the most recent American Heart Association and ILCOR first aid and CPR techniques as offered by this provider. In order to meet workplace requirements, individuals need to register for a two-day standard first aid course which includes CPR and AED training. CPR level "C" comes standard with this course, however, individuals that work in the health care provider industry may opt to partner the course with CPR level "HCP". Registration can be done online, by e-mail, or by telephone. Two types of standard first aid courses are available, participants can either register for open classroom courses or can register for a private course if they are with a group, company, or business. Safety training courses are available online. To register for workplace-approved standard first aid training in Saskatoon use the registration form below or the contact information provided.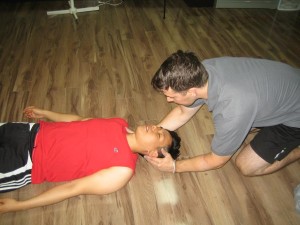 Standard First Aid and CPR Training Course Times and Dates in Saskatoon
Saskatoon First Aid provides standard first aid lessons in a variety of training centers all over the Saskatoon region. Most classes are offered at least two times a week with prominent instructional classes, like standard first-aid, offered as frequently as four times per week. Individual emergency first aid courses may be booked at a training center or a location that suits the student or business.
Credible St Mark James Certification
Participants that successfully complete a standard first aid and cardiopulmonary resuscitation (CPR) training course through Saskatoon First Aid will get a St Mark James certificate. This certificate is valid for three years and a re-certification course is not available in this province.
Various First Aid and CPR Classes in Saskatoon
Saskatoon First Aid provides CPR education consisting of CPR "A", "B", "C" and CPR level "HCP" Most of these cardiopulmonary resuscitation training courses can be taken as individual classes, however, it is mandatory to take a CPR course in order to complete the emergency first aid course.
Registration for Emergency First Aid in Saskatoon
To register for any emergency first aid or cardiopulmonary resuscitation course with Saskatoon First Aid visit  www.firstaidsaskatoon.ca. Sign up for emergency first aid training in Saskatoon and discover the techniques to help save a life and obtain the most recent workplace-approved first-aid and cardiopulmonary resuscitation certification.
Cardiopulmonary Resuscitation and First Aid Standards
Saskatoon First Aid ensures that its candidates receive the highest level of training available. Check out the video below to see the latest CPR and AED techniques for adult victims.
In the video posted above the workplace-approved rescuer provides CPR and uses an AED. Here are some basic tips on how to provide CPR.
When providing chest compression's the rescuer should have his or her arms "locked" as to provide the most amount of force
For every 30 chest compression, the rescuer should provide 2 ventilations.
The AED should be turned on as soon as it arrives. Listen to the instructions carefully and remember that the AED pads are one-time-use only.
Landmark for chest compression by exposing the victim's chest. This is the easiest and quickest way to find the correct location for chest compressions.
Learn more about how and when to do CPR by registering for emergency first aid courses in Saskatoon.