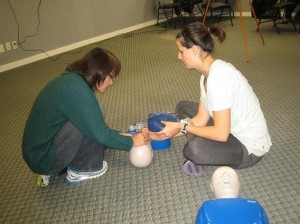 The leading supplier of emergency first aid courses in Edmonton, Alberta is Edmonton First Aid (click here to view this website). This provider has grown to be the largest and most popular provider because of its low prices, attention to detail and friendly teachers / staff. A variety of OH&S approved first aid courses are available in comfortable locations with expert and professional teachers. Students will learn the latest and most effective first aid and cardiopulmonary resuscitation (CPR) skills as delivered by the American Heart Association. Registration can be done on-line, by e-mail or telephone. Private group courses for business or large groups, refresher classes and food safety classes are also available. On-line safety training is also available for courses that include fire safety, H2S awareness, TDG and WHMIS. To register for a emergency first aid course in Edmonton use the contact information below or use the on-line registration form.
Register for Standard or Emergency First Aid Training in Edmonton Here
[EVENT_CUSTOM_VIEW template_name="recurring-dropdown" event_category_id="Edmonton"]
Course Dates and Times
Edmonton First Aid offers classes at multiple locations within Edmonton with the most popular training centre located in Old Strathcona within walking distance of the University and Hospital.  Check out the map below to view more information about the location.
To register for a course use the following contact details:
Email: [email protected]
Telephone: 780-809-0829
Address:  Suite 200 7915 – 104 Street, Edmonton, Alberta, T6E 6M6
Website: www.firstaidcpredmonton.ca
Courses and re-certification classes do fill so register early to ensure a spot in the course.

This provider is located in an area with plenty of nearby eating amenities but also offers a fridge and microwave for individuals that bring their own food / snacks.
Emergency First Aid Course Cost
The cost of a Emergency First Aid course in Edmonton with this workplace approved training provider is 89.99. Course price includes taxes, certification fees and take home manual. Standard first aid courses are also available at a cost of 132.99.
OH&S Approved Accreditation's
Participants that successfully complete an emergency first aid and cardiopulmonary resuscitation (CPR) training course through Edmonton First Aid will get a Alberta OH&S approved  certificate. This certificate is valid for three years. Re-certifications are not available for emergency first aid certifications in Alberta. Participants must re-take the course in order to renew certification for this award.
Different types of Emergency First Aid and CPR Programs
Emergency first aid can be partnered with three different levels of CPR. These level's are as follows:
CPR level "A" – Adult CPR only
CPR level "C" – CPR for victims of all ages
CPR level "HCP" – CPR level "C" for health care providers.
CPR and AED training are a mandatory component of any first aid course so participants must select a level of CPR to partner with the program. Participants may not attend a "first aid" only course.
What Will I Learn in a First Aid Course?
Participants that enrol in emergency first aid training in Edmonton will learn about the following topics:
How to stay safe during an emergency by using barrier devices and personal protective equipment
How to be prepared for an emergency
How to manage a choking conscious and unconscious victim
How to effective perform cardiopulmonary resuscitation
How and when to use an automated external defibrillator
How to recognize and manage circulatory and respiratory emergencies
How to manage wounds and broken bones
These topics are covered in a 8 hour course with hands-on training using real supplies from a first aid kit.
Related Video – Recognizing and Managing Burns
Individuals enrolled in workplace approved first aid training will learn to manage a number of emergency scenarios. An essential component of first aid training is managing burns. Heat burns are broken up into three categories which are 1st, 2nd and 3rd degree burns. Here is a simple break-down of each degree of burns.
1st Degree Burns – These burns affect the outer layer of the skin (epidermis). The

Cooling a first degree Burn with Cold Clean Water

symptoms include pain, red skin and swelling. This is the least serious of the burns and often does not require advanced medical attention. Keep the area cool and clean by running the affected airway under a cool and clean tap of water.

2nd Degree Burns – These burns affect the outer layer (epidermis) as well as a portion of the inner layer of the skin (dermis). Skin is more intensely burned, blisters are present and there is severe pain and swelling. Do not apply ice to the wounds or break the blisters.
3rd Degree Burns – These are the most serious of burns and involve at least all three layers of the skin. Fat, tissues, muscle and internal organs may also be affected. Contact EMS for any third degree burns.
To learn more about managing burns and other serious medical emergencies sign up for workplace approved emergency first aid courses in Edmonton, Alberta.