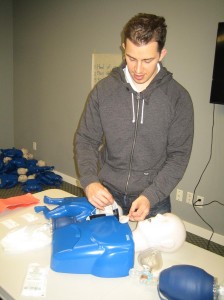 Would you know what to do during a medical emergency? If you found a loved one laying unconscious on the floor would you know how to respond? Learn basic rescue skills, build confidence in yourself and strengthen your resume by enrolling in emergency first aid courses in Victoria. Victoria First Aid is considered the largest and most well-known workplace-approved emergency first aid provider in British Columbia. Various courses including food safety, CPR "only", AED training, and workplace emergency first aid (WEFA) are available with this training provider. Individuals that need certification that meets WorkSafe BC requirements should enroll in WEFA training programs.  This web page will explain the reason why Victoria First Aid stands out as the premier company of emergency first aid programs in the area. Click here to visit the website or use the contact information provided below to register for safety, re-certification, first aid, CPR, and AED training in Victoria today.
Register For a Course in Victoria Using the Following Information
Use the following contact information to register for a course or to contact Victoria First Aid:
Telephone Number: 1-888-870-7002
Email: [email protected]
Website: http://firstaidcprvictoria.ca
Staff is available to take your calls during regular business hours.
Class Curriculum of an Emergency First Aid Class in Victoria, BC
A number of topics are covered in this one-day basic first aid, CPR, and AED course
CPR and AED rescue techniques
Staying safe during an emergency
Being prepared for an emergency
Wound management
Heart Attacks
Angina
Stroke
Sudden medical emergencies
Environmental emergencies
Breathing emergencies
Circulatory emergencies
Learn about these and other basic emergencies by enrolling in a course today.
Workplace Approved Emergency First Aid and CPR Certification Presented
Students who complete a workplace emergency first aid (WEFA) course, which is equivalent to occupational first aid level 1,  will receive a certificate that is valid for 3 years. This certificate fulfills emergency first aid accreditation for WorkSafe BC and workplace specifications and guidelines. Students can receive either a wallet-sized certificate or an 8.5 x 11″ certificate. For additional information about certificates contact Victoria First Aid. Other popular certification courses include standard first aid, which is a two-day course, and emergency childcare first aid which is a course designed for individuals that work in daycare/childcare environments. Emergency childcare first aid is a one-day, 8-hour, intensive course, that is required for many individuals that work in the care of children. All of the above-mentioned courses provide successful participants with a certificate that is valid for 3 years upon completion of the course.
Most affordable Prices within Victoria
Victoria First Aid offers the most competitive rates in the Victoria area. All emergency first aid course rates include taxes, workplace-approved certificates, and course manuals.
Greatest workplace-approved Instructors and Teaching Centres
Victoria First Aid has got the most desirable education establishments in the community. Training centers are well maintained, nice and clean. Education locations have by far the most cutting-edge products. The center is located in a suitable area. Course instructors are incredibly friendly and inviting. Course instructors also are experienced, knowledgeable and patient in teaching emergency first aid and CPR.
Learning to Manage Wounds – Emergency Training
workplace-approved training programs teach individuals to recognize and manage a variety of different wounds. The following is a list of external bleeding wounds covered in an emergency first aid training course.
Abrasion
Incision
Amputation
Embedded Objects
Puncture
Contusion
Participants will also learn to manage venous and arterial external bleeding as well as internal bleeding (closed wound).  Sign up for workplace-approved emergency first aid in Victoria to learn to recognize and manage wounds.