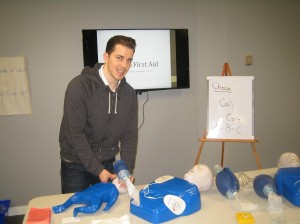 The leading provider of Workplace Safety and Insurance Board (WSIB) approved emergency first aid training in Ottawa is Ottawa First Aid Ltd. Here students will learn modern first-aid and CPR skills as delivered by WSIB-approved instructors of Canada. Students may submit their application for this one-day, 8-hour course either online by e-mail or phone. A number of other courses including private emergency first aid courses, refresher classes, and food safety courses are also available. Online safety courses including WHMIS, TDG, and H2S are also available. Learn valuable life-saving skills by enrolling in a basic emergency first aid course in Ottawa today. To register for a WSIB emergency first aid course in Ottawa or to inquire about private training use the contact information posted below.
Contacting Ottawa First Aid
To contact this provider use the following details:
Emergency First Aid Class Times
Ottawa First Aid (click here to view the website) offers emergency first aid training courses at a variety of training centers across the Ottawa region. Each program is offered at least two times per week with popular instructional classes (emergency first aid) offered as frequently as five times per week. Open classroom courses can be scheduled at the training center or at an area of your choosing.
Course Content of Emergency First Aid
The course content of an emergency first aid course is as follows:
CPR and AED rescues
Recognition and management of choking victims (conscious and unconscious)
Recognition and management of respiratory emergencies including and not limited to asthma, shock, and anaphylaxis
Recognition and management of circulatory emergencies including heart attacks, angina, stroke, and T.I.A's
Recognition and management of wounds and skeletal injuries.
Burns, seizures, and other sudden medical emergencies
Types of Programs
Ottawa First Aid supplies all stages and levels of CPR training consisting of CPR "A",  CPR "C" and CPR "HCP". These CPR programs are often available as stand-alone courses or they could be part of an emergency first aid course. All emergency first aid courses require a level of CPR training to partner with the program.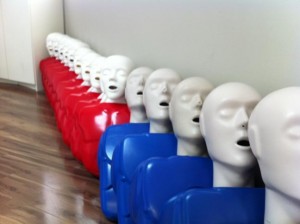 Program Rate
Ottawa First Aid offers the most competitive rates for WSIB-approved first aid and CPR training. Additionally, they provide the best prices for renewal / re-certification classes, food-safe courses, and other workplace safety programs.
Emergency First Aid Course Registration
To register for any first aid or CPR class through Ottawa First Aid you can send them an email at [email protected] or register online at www.firstaidcprottawa.ca. Sign-up and discover the techniques to help save a life and receive your workplace-approved emergency first aid and CPR certificates.
Highest Standards
Our workplace-approved teachers maintain the highest standards in emergency first aid and CPR training. Below is an instructor demonstrating the 2012 and 2013 standards in infant CPR.
In this video the workplace approved Instructor Demonstrates the Following Techniques:
Check for dangers prior to providing any aid
Check the level of consciousness of the infant victim
Gently open the infant's airway so that the chin and nose are parallel to the ground
Check for breathing/respiration for no more than 10 seconds
Send a bystander to contact EMS and bring an automated external defibrillator (AED)
Proceed with 30 chest compressions for every two ventilation until help arrives, the victim responds or you are too tired to continue
To learn when and how to effectively provide CPR for an infant register for workplace-approved emergency first aid training in Ottawa.