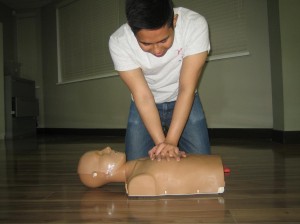 Individuals that need WorkSafe BC approved first aid and CPR certification in Surrey should register with(click here to view available courses in Surrey) Vancouver First Aid. This provider offers occupational first aid level 1 (OFA level 1) courses as well as standard, emergency and childcare first aid training in two training centres. One training centre is located in Newton and the other in Whalley. Topics covered in first aid training include heart attacks, angina, anaphylaxis, stroke, broken bones, wounds, spinal injuries, head injuries, burns, seizures, choking and CPR. Registration can be done on-line, by e-mail or telephone. Private emergency first aid and occupational first aid level 1 (WorkSafe BC approved) courses are available almost every day in Surrey with this large and popular provider.
Contact This First Aid and CPR Provider
Vancouver First Aid offers Courses in Surrey multiple times per week. To register for a course you may use the following contact information:
Website: www.vancouverfirstaid.ca/surrey
Telephone: 778-709-9180
Email: [email protected]
Telephone Registration is available from 7am to 5pm and online registration is available 24 hours a day.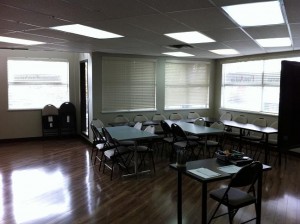 Emergency First Aid Training Course Times in Surrey
Vancouver First Aid delivers emergency first aid classes within a variety of locations throughout the Lower Mainland.  Most courses are provided at least two times a week with in demand courses, such as emergency first aid, offered as often as five times each week. Personalized classes may be reserved at the training center or at a location that best suits you (if space is available).
Workplace Approved Qualifications
Participants that complete occupational first aid level 1 training will receive WorkSafe BC approved certification that is valid for 3 years throughout British Columbia.
Does CPR Come Standard With Emergency First Aid?
CPR training is included in both workplace emergency first aid and basic emergency first aid. CPR level "A" is mandatory with WEFA, however, participants that enrol in basic emergency first aid may select from either CPR level "A", "C" or "HCP".  Automated external defibrillator (AED) training and certification is included in both courses.
Emergency First Aid Course Price
This Surrey provider offers the least expensive workplace approved first aid and CPR training courses. In addition, they provide  affordable prices for refresher classes, food safe training courses and exclusive (private) programs. The following is a break down of course prices with this provider:
Emergency First Aid and CPR level "A" or "C" – 75.00
Emergency childcare first aid and CPR level "B" – 75.00
Occupational First Aid Level 1 – 74.99
Register via telephone during regular business hours or register on-line at any time.
Course Enrolment
To enrol for an emergency first aid or CPR  course through this Surrey provider you can email them at [email protected], browse the webpage at www.vancouverfirstaid.ca or phone 778-709-9180.
What Will I Learn in This Course?
Participants that register for basic first aid training will learn about the following topics:
Effective cardiopulmonary resuscitation
What is an AED and how to use it
How to stay safe during an emergency using personal protective equipment (PPE)
How to recognize and manage partially and fully obstructed airways (choking rescues)
When and how to contact EMS using bystanders
Recognition and management of victims of circulatory emergencies that include heart attacks and stroke
Recognition and manage of victims of breathing / respiratory emergencies including allergic reactions and asthma
How to manage injuries that include broken bones, internal and external bleeding
Learn to manage major emergencies by enrolling in a course in Surrey today.
Effective CPR and First Aid Training
All our training teachers teach the latest methods and techniques. Check out the latest infant CPR techniques shown below. The presentation is made by a trained workplace approved emergency first aid teacher.

Here are some simple tips on providing CPR for to an infant (0-12months):
When providing chest compression's use only two fingers and compress the chest approximately 1/3 the depth of the chest.
When opening the airway, ensure that the chin and the nose are parallel to the ground. Opening the airway any further or not enough will not allow for effective air flow.
Currently no AED's are available for public use for infant's. Do not use an adult AED on an infant, it will not work.
When providing ventilation for an infant, only give enough air so that the infant's chest rises. Providing more air beyond the required can create negative complications.
To learn more about providing CPR to an infant enroll in workplace approved emergency first aid training in Surrey, British Columbia.