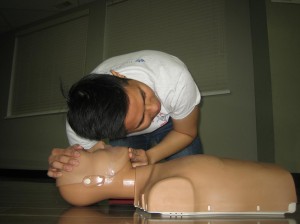 The leading provider of emergency first aid classes in Vancouver is Vancouver First Aid (Click here to view this site). Participants will be taught the most recent first aid and cardiopulmonary resuscitation (CPR) techniques as offered by WorkSafe BC and federally and provincially approved programs. Popular one and two-day courses are available which include occupational first aid level 1 (OFA level 1) and standard workplace first aid which combines OFA level 1 with standard first aid. CPR certification and training are included with every first aid course and participants may select either CPR level "A", "C" or "HCP" to partner with the course. Certification is valid for 3 years and some certificates allow for re-certification which is shorter and cheaper than taking the original course. Registration can be done via online enrolment, e-mail, or phone. Personalized emergency first aid training, recertification courses, and food safety courses are also available through this popular provider. Register for occupational, emergency, or standard first aid courses in Vancouver with this popular and WorkSafe BC-approved provider.
Emergency First Aid / CPR Registration
To enroll in any emergency 1st aid or cardiopulmonary resuscitation training course through Vancouver First Aid you can send them an email at [email protected], visit their website at www.vancouverfirstaid.ca or phone 778-709-9180. Enroll for emergency first aid training courses in Vancouver today and learn techniques to save a life and receive the most up-to-date workplace and WorkSafe BC-approved first aid and CPR / AED training. For more information about where the training centre is located check out the map below.

Situated in Central Vancouver it proudly serves East Vancouver and it's neighbouring schools including Simon  Fraser University (SFU), University of British Columbia (UBC), Langara College, BCIT, University Canada West (UCW), Douglas College, Sprott Shaw, Greystone College and many more. It proudly also offers private and infant CPR courses to West Vancouver and North Vancouver. For more details visit the Vancouver First Aid website.
Emergency First Aid Class Times and Dates in Vancouver
Vancouver First Aid offers instructional classes at various locations throughout the Lower Mainland. Emergency first aid lessons are offered at least four times a week. Personalized and private lessons can either take place at the training center or at a location convenient for you. Private classes are available for individual or business requirements. Courses typically begin at 9:00 am and require a full day to complete ending at 5 pm. Evening courses, starting at 5 pm, are also available.
Workplace Approved Certifications
Participants that complete an emergency first aid and cardiopulmonary resuscitation (CPR) training course through Vancouver First Aid will get a workplace or WorkSafe-approved certificate. This certificate is valid for three years and a re-certification course is required prior to the certificate expiry date.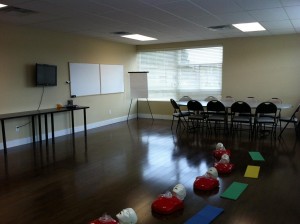 Different types of CPR and First Aid Training Courses
Vancouver First Aid supplies all varieties of cardiopulmonary resuscitation training including CPR "A", CPR "B", CPR "C", and health care provider CPR level "C" (also known as CPR HCP). These CPR / AED training courses can be taken as individual classes, however, it is mandatory to take a CPR course in order to complete the emergency first aid course.
Emergency First Aid Class Price
Vancouver First Aid offers the best rates for first aid and CPR training in the Lower Mainland. They also offer the best prices for re-certification programs, food-safe courses, and individual or private classes. Private instructors are available to come to any location throughout the Lower Mainland. The following is a breakdown of course prices available with this provider:
Occupational First Aid Level 1 (OFA level 1) – 74.99
Emergency First Aid with CPR level "A", "C" or "HCP" – 75.00
Standard Workplace Emergency First Aid (Two-day course that included OFA level 1) – 174.99
Emergency Childcare First Aid and CPR level "B" – 74.99
All courses include automated external defibrillator (AED) training.
Emergency First Aid Training Standards
Vancouver First Aid provides the highest level of training standards for all of its participants. Instructors follow the latest requirements set by the American Heart Association and all major CPR governing bodies. Check out the latest emergency first aid and cardiopulmonary resuscitation techniques in the video below.
Infant CPR with a Pocket Mask
Individuals enrolled in emergency first aid and CPR level "C" will learn to use protective equipment when doing CPR on an infant victim. Students will learn to use an adult-sized pocket mask on an infant. Here are some basic tips on using the mask on an infant victim.
When using an adult pocket mask on an infant rotate it 180 degrees to create a better seal over the infant's face. An effective seal is created when the pocket mask covers the entire face.
Ensure that the infant's airway is open and in the "sniffing" position when ventilating.
When providing ventilation, limit the breaths so that you do not continue ventilation after you see the infant's chest rise.
To learn more about infant CPR with a pocket mask sign up for workplace approved emergency first aid course in Vancouver, British Columbia.