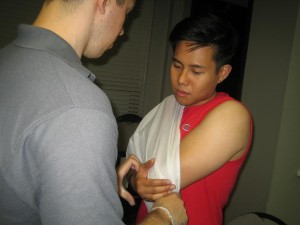 Learn to manage and recognize the most common medical emergencies by enrolling in an emergency first aid course. The most popular, lowest-priced, conveniently located provider in Mississauga is Mississauga First Aid.  Learn to manage emergencies such as choking, asthma, anaphylaxis, heart attacks, angina, shock, and unconscious victims by enrolling in this course.  Emergency first aid also includes training in CPR and in the use of automated external defibrillators (AED). Mississauga First Aid (click here to view the website) offers a variety of courses outside of just emergency first aid. This provider also offers two-day courses such as standard and childcare first aid. Participants can also register for stand-alone CPR courses, re-certifications, private classes, food handling courses, online safety training, and many more programs. A full list of courses is available on the website. To register for a course or to inquire about the available services to you use the contact information provided just below.
Contact Information for Mississauga First Aid
To register for a course to inquire about available services use the following contact information:
Telephone: 1-888-870-7002
Email: [email protected]
Website: firstaidcprmississauga.ca
Space is limited. Register for a course today.
Who Take First Aid and CPR Training in Mississauga
Many people are required to have WSIB-approved certification in Mississauga, Ontario. Here are some of the popular candidates that enroll in courses with Mississauga First Aid:
Fire-fighters
Paramedics
Doctors
Medical Care Professionals
Office Workers
Life-Guards
Construction Site Workers
CBSA Officers
Care-Givers
Nursing Students
Medical School Students
Teachers
Fitness Workers
Flight Attendants
Community Centre Employees
Restaurant Employees
To find out what course you need or if your employment type is not listed above use the contact information posted above to find the course you need.
St Mark James Certification Given
Participants that successfully complete a first aid and cardiopulmonary resuscitation (CPR) training course through Mississauga First Aid will get a St Mark James certificate. This certificate is valid for three years and a re-certification course is required prior to the certificate expiry date. Please ensure that you meet all prerequisites prior to registering for a recert course in Ontario.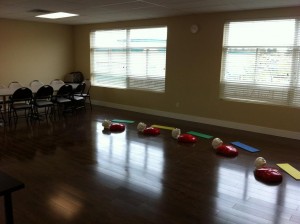 Why Register With Mississauga First Aid?
Here are some popular reasons why Mississauga First Aid stands out as the leading provider in Ontario
It has unbeatable prices
Registration is available in-person, online, through chat, via email, or via telephone.
Certification meets WSIB standards and requirements
Participants use the latest training equipment and supplies
Instructors are experienced, knowledgeable, and fun
Courses are offered at high frequency at varying times throughout the week for your convenience
The training center is centrally located and offers free parking and plenty of nearby amenities.
This provider has excellent reviews
Register for a course today and see what this provider has to offer.
Greatest St Mark James Teachers and Education Facilities
Mississauga First Aid has the best education amenities in the community. Locations are well managed and clean. Training facilities also include the most cutting-edge equipment. Teachers are incredibly friendly and inviting. Educators are additionally patient, experienced, and knowledgeable.
Basic CPR Techniques – Agonal Breathing
The video posted above shows basic CPR techniques provided by lifeguards in Australia. This video is slightly outdated as CPR techniques have since changed to provide quicker compressions (of at least 100 compressions per minute).  What is very noticeable in the video is the victim seemingly breathing every 15 seconds. These breaths are typical of Agonal breathing. Agonal breathing is caused when the brain sends signals to the diaphragm to contract and expand to induce breathing. However, the normal function of the lungs is not available so effective oxygen exchange does not happen. Rescuers that find a victim suffering from agonal breathing should continue with cardiopulmonary resuscitation and the use of an automated external defibrillator until normal breathing resumes, advanced care arrives, or if they are too tired to continue.  To learn more about breathing complications enroll in workplace-approved emergency first aid training in Mississauga.