Depending on your province, candidates that have previously received an Emergency First Aid certificate via a credible provider can renew / re-certify their certification by taking an emergency first aid re-certification. This course is not available in all provinces. Check with the provider in your area to see if this course is available for you. This re-certification training covers the same topics outlined in the full course. Candidates will review the same material in a more condensed format. St Mark James' first aid and CPR instructor will focus the class on areas that need improvement and on changes in the standards.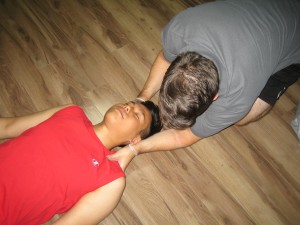 Locations:
Our St Mark James training providers are located throughout Canada in almost every major metropolitan region. To register for an emergency first aid course in Surrey, Vancouver, Winnipeg, Regina, Saskatoon, Ottawa, Edmonton or Calgary visit our locations page.
Course Length:
The length of the emergency first aid renewal / re-certification course is approximately 8 hours depending on the skill level of the candidates.
Course Cost:
The cost of the course is approximately 60.00 dollars. The cost covers the workplace-approved certification fee and any applicable taxes.
Pre-requisites for Emergency First Aid Re-certification : 
If emergency first aid re-certification classes are available in your area you must meet the required prerequisites prior to registering. To be eligible for the emergency first aid refresher course candidates must have a previous certificate from a credible provider.  Credible providers include:
St Mark James
Lifesaving Society
Heart and Stroke Foundation
St. Johns Ambulance
SAFE first aid.
Candidates must also have taken a certification course no more than 3 years ago. If the award has not been re-certified within 3 years of certification then a candidate must retake the full course.
Notes:
The candidate must bring a previous certification card and manual to receive workplace-approved re-certification. Dependent on the time of the emergency first aid course (EFA) candidates might want to bring an optional snack/lunch/dinner.
Registration:
To register for an emergency first aid recertification, select from the course location in the sidebar, menu bar or select from the course list provided below.