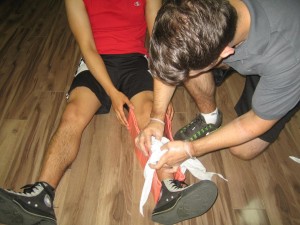 Emergency first aid is a one-day course that teaches basic rescue skills, knowledge, and techniques and incorporates training in CPR, choking rescues, and the use of automated external defibrillators (AED). St Mark James training providers offer these courses throughout the Toronto regional area. The leading provider of emergency first aid courses, based on quality, schedules, teachers, and prices is Toronto First Aid. This provider is committed to providing the best courses for all of its participants is conveniently located and comfortable classes.  Whether you are a student, mother, teacher, or babysitter, it is important to know what to do in an emergency situation. Toronto First Aid is the largest and most popular workplace-approved emergency first aid provider in Ontario. Private courses and re-certification classes are also available. Visit the Toronto First Aid web page to register for a course today. View the website here.
Course Content of an Emergency First Aid Course in Toronto, Ontario
The following is the course content of the basic first aid and CPR course in Toronto, Ontario:
First aid preparedness
The EMS system and when to contact
Differentiate between serious and non-serious emergencies
Staying safe in an emergency
When and how to use barrier devices such as gloves and pocket masks
CPR rescue techniques
When and how to use an AED
Circulatory emergencies including wound management, heart attacks, stroke, and T.I.A's
Respiratory emergencies including asthma, hyperventilation shock, and anaphylaxis
Sudden medical emergencies
Broken bones including open and closed fractures
Conscious and unconscious choking victim management
Learn about these skills/topics and more by enrolling in a one-day basic emergency first aid course in Toronto today.
Workplace Approved Certificate
Participants that successfully complete an emergency first aid and cardiopulmonary resuscitation (CPR) training course through Toronto First Aid will get a St Mark James certificate. Re-certification courses are also available for participants with current workplace-approved standard first aid, CPR level "C" or CPR "HCP" certificates. Participants are encouraged to check that they meet re-certification prerequisites prior to registering for the course.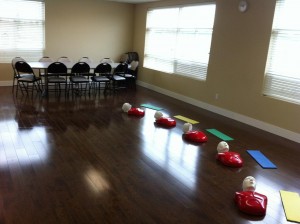 Course Fee
Toronto First Aid offers the lowest prices in the Toronto region. All fees include tax, workplace-approved certification costs, and manuals.
Registration
To register for an emergency first aid course visit the "Toronto First Aid" website and select the course date, time, and location that fits your schedule. Registration can be completed via telephone, email, or through the online registration program. Use the following contact information to register for a course:
Email: [email protected]
Telephone: 1-888-870-7002
Website: http://torontofirstaidcpr.ca
Take an emergency first aid course with Toronto First Aid to receive the best training at the lowest prices.
Basic First Aid Skills – Poisons
Participants in workplace-approved emergency first aid training in Toronto will learn the following basic skills when managing poisons.
Poisons can be inhaled, absorbed, ingested, and injected.
If available, read the material safety data sheets of the suspected poison.
Keep the poison control phone number on hand (1-800-268-9017) and contact them if you suspect poisoning. If you do not have the number contact EMS.
Keep the patient calm and prevent them from moving. Do not induce vomiting unless directed by poison control or MSDS sheets to do so.
Read the label of any suspected poison.
Treat any animal bite like poison.
To learn more about poisons enroll in workplace-approved emergency first aid courses in Toronto, Ontario.