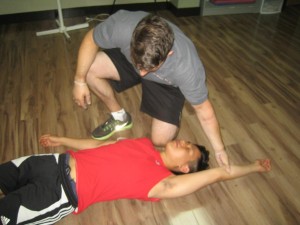 One of the most popular basic courses available with Red Deer First Aid is emergency first aid and CPR.  This course meets workplace requirements for many employees and teaches participants basic rescue and CPR skills. Participants range from students and caregivers to new parents. Red Deer First Aid is the largest and most sought-after workplace-approved emergency first aid and cardiopulmonary resuscitation (CPR) supplier in Alberta. Students will learn the most recent rescue and CPR techniques as regulated and mandated by the American Heart Association and the International Liaison Committee on Resuscitation (ILCOR) Registration can be done online, by e-mail, or by telephone. Independent and private training courses, refresher classes, and food safety classes are also available. Participants may also register for online safety courses such as WHMIS, H2S awareness, and TDG.  This website will show you why Red Deer First Aid (click here to view the website) is the premier provider of Alberta OH&S-approved first aid and CPR courses in Alberta.
Class Outline of an Emergency First Aid and CPR Class in Red Deer
The following topics are covered in an Alberta OH&S-approved emergency first aid and CPR course:
How to stay safe during an emergency with personal protective equipment, barrier devices, and compression-only CPR
When and how to contact 9.1.1. (EMS)
How to be prepared for an emergency
How to recognize and manage heart attacks, angina, stroke, and transient ischemic attacks
How to differentiate between fully and partially obstructed airways and how to manage the choking victim
Legal implications of providing first aid and/or CPR
How to recognize and manage breathing emergencies such as anaphylaxis, shock, asthma, and hyperventilation
How to manage wounds, broken bones, and head injuries
All of these topics are covered with a variety of activities including hands-on training.
How To Register For a Course in Red Deer?
To register for a course use the following contact information:
Website Address: www.firstaidreddeer.ca
Telephone Number: 1-888-870-7002
Email: [email protected]
Customer service representatives are available from 8 am to 6 pm to help with any registration concerns or questions.
Workplace Approved Certification 
The following courses provided through Red Deer First Aid meet Alberta OH&S requirements for first aid training:
Standard first aid, CPR, and AED
Occupational first aid, CPR, and AED
Emergency first aid, CPR and AED
Participants may also register for CPR and AED "only" courses:
CPR level "A" and AED
CPR level "C" and AED
CPR level "HCP" and AED
Basic Life Support (BLS)
Advanced Cardiac Life Support
Pediatric Advanced Life Support
The following non-first aid / CPR courses are also available
On-Line Workplace Hazardous Material Information System (WHMIS) Training
On-Line Transportation of Dangerous Good (TDG) Training
On-Line Fire Safety Training
Alberta Approved Food Safety Certification
Pet First Aid
Babysitting Training
Visit the Red Deer First Aid website to find out more information about courses available to you.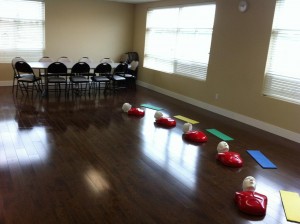 Most competitive Prices within Red Deer
Red Deer First Aid strives to provide the most competitive fees in the Red Deer area. No other provider can compete with the low prices that are inclusive of all taxes, take-home manual, and certification fees.
Who Needs Emergency First Aid Training in Red Deer?
Many people are required to have OH&S-approved first aid and CPR certification in Red Deer. Here's a sample of some of the people that take training courses:
Fitness Workers
Security Guards
Dentists
Health Care Workers
Administrators
Government Workers
Oil and Gas Workers
Miners
Construction Workers
Heavy Industry Workers
Restaurant Managers
Students
Teachers
Daycare Workers
Find out which course you need by using the contact information available above.
Did You Know?
The most difficult first aid emergencies for candidates to recognize are patients with low levels of blood sugar (hypoglycemia). In this first aid situation, the patient shows a variety of symptoms that are often similar to someone being intoxicated including the acetone smell (alcohol) in the breath. Regardless of the type of deficiency whether it is insulin or sugar, it is never a bad idea to offer the patient something sweet to eat or drink (careful not to give the victim something to choke on). For more information about providing care for diabetic patients enrolled in a first aid class near you.
Related Video to Diabetic Emergencies