Fact Checked
Overview Of Frostbites
Frostbite takes place when the body's soft tissue freezes.
It's vital not to try to rewarm or apply treatment to the frostbite until completely sure that the soft tissue will not refreeze, but it's best to warm up frostbitten tissue no more than 24 hours after the injury.
First Aid Procedures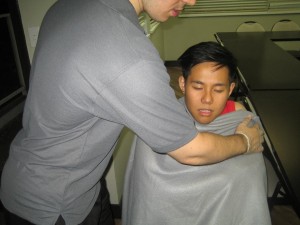 It's more important to make certain no one else is injured by the cold. Only help if you can do so carefully. Follow general precautions and wear safety equipment if you have it.
Move the casualty away from the cold. DO NOT try to soften frostbitten tissues if there is a chance they could freeze again.
Fill a shallow bowl with sufficient water to conceal the affected body part. The water should be around standard body temperature or a bit warmer.
Carry on refreshing the water in the bowl as it cools. Maintain the water at the same temperature as often as possible. It should take about 30 minutes to soften the frostbitten tissue this way.
Get the casualty medical support as soon as you can – even after the frostbite has been thawed.
Guidelines
DO NOT let softened tissue freeze again. The damage will be even more serious if the tissues freeze again.
NEVER scrub or massage the frostbitten tissue. Massaging frostbitten tissue will lead to more serious damage.
DO NOT use any heating equipment such as fires or stoves in order to treat frostbite. Casualty's cannot sense the frostbitten tissue and can be burned easily.
Body heat can also be used to soften minor frostbite. For instance, place frostbitten fingers underneath the arm – your own body heat can be a lifesaver.
 Related Video On Frostbite